Rob Thomas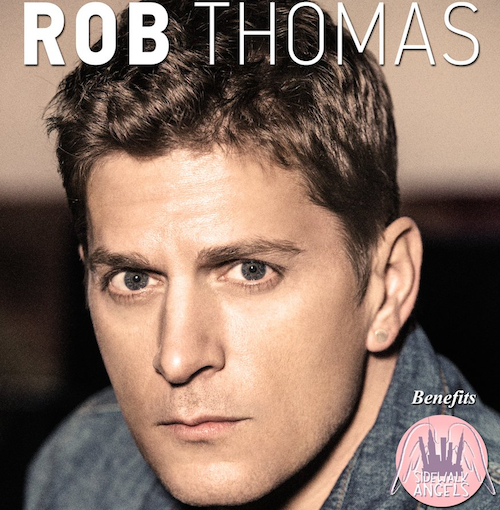 Rob Thomas is one of modern musics most compelling and commercially successful artists. For 20 years, he has been the frontman and primary composer for Matchbox Twenty, leading the quintet to multiplatinum success over the course of four albums and a string of No. 1 hits that include Push, 3AM, Bent, If Youre Gone, and Unwell. Thomas two solo albums, 2005s platinum-certified No. 1 album &Something To Be and 2009s cradlesong generated the hit singles Lonely No More, This is How A Heart Breaks, Her Diamonds and Someday.

Then theres Thomas collaborations with iconic artists like Mick Jagger on the #1 single Disease, Willie Nelson, and Santana, the latter resulting in 1999s Smooth the Latin-tinged blockbuster that earned Thomas three Grammy Awards and spent 12 weeks atop Billboards Hot 100 chart.

Thomas is known as an electrifying live performer, drawing fans of all ages to Matchbox Twentys concerts as well as to his solo shows around the globe. His 2016 critically acclaimed summer solo tour featured an innovative industry-first hologram karaoke backstage experience, where radio station winners and VIP got a one-of-a-kind interactive Hollagram duet.

VNUE, Inc., our sister company, and DISCLIVE, are very excited to be working with Rob again in 2019 on three sold out shows at the Borgata in Atlantic City, NJ, producing and releasing high quality full-show recordings of each performance, available immediately after each show via the set.fm mobile app and the set.fm website, as well as NEW for this year - limited edition numbered CD sets via the disclive.net website.!

Proceeds of each sale benefit Rob's Sidewalk Angels Foundation, which provides critically needed funds and support to no-kill animal shelters and rescues across the country.

NEW THIS YEAR - LIMITED EDITION, NUMBERED COLLECTIBLE CD SETS! Only 500 per show will EVER BE OFFERED so reserve your copy now, and either pick it up at the show you attend, or we will ship it to you worldwide!

Pre-order your copy now!

For DIGITAL ONLY (no physical product) you may order HERE: https://set.fm/artists/rob-thomas.
We are pleased to be offering limited edition recordings for the artist above. Not to be confused with a "sound board" recording, these recordings are fully mixed and mastered on the fly and are true collectors items. Only a few of each of these products will ever be made!
Product availability is subject to the date of the concert. Even if you cannot attend the show you can still order products and we will ship them to you! For shows that have not yet occurred, you can order "pick up" items (those items where you will be attending the show). In doing so, you are purchasing a printable voucher which may be redeemed at the concert you attend to pick up your product. IF YOU DO NOT SEE "PICK UP" ON THE SHOW YOU WANT TO PURCHASE, THIS MEANS THE ONLY OPTION AVAILABLE IS TO HAVE IT SHIPPED HOME TO YOU. HOWEVER, IF YOU ATTEND THE SHOW, YOU MAY STILL ORDER YOUR COPY AT THE SHOW AND TAKE IT HOME THAT NIGHT. For "ship home" items, we make every effort to send the master recordings to the fulfillment house within 3 business days of the specific show. Therefore you should allow up to 5 business days for processing, and additional delivery based upon your chosen method of shipment.
SELECT "PICK UP" ONLY IF YOU ARE ATTENDING THE SHOW AND WISH TO PICK UP THE ITEM RIGHT AFTER!