3 Doors Down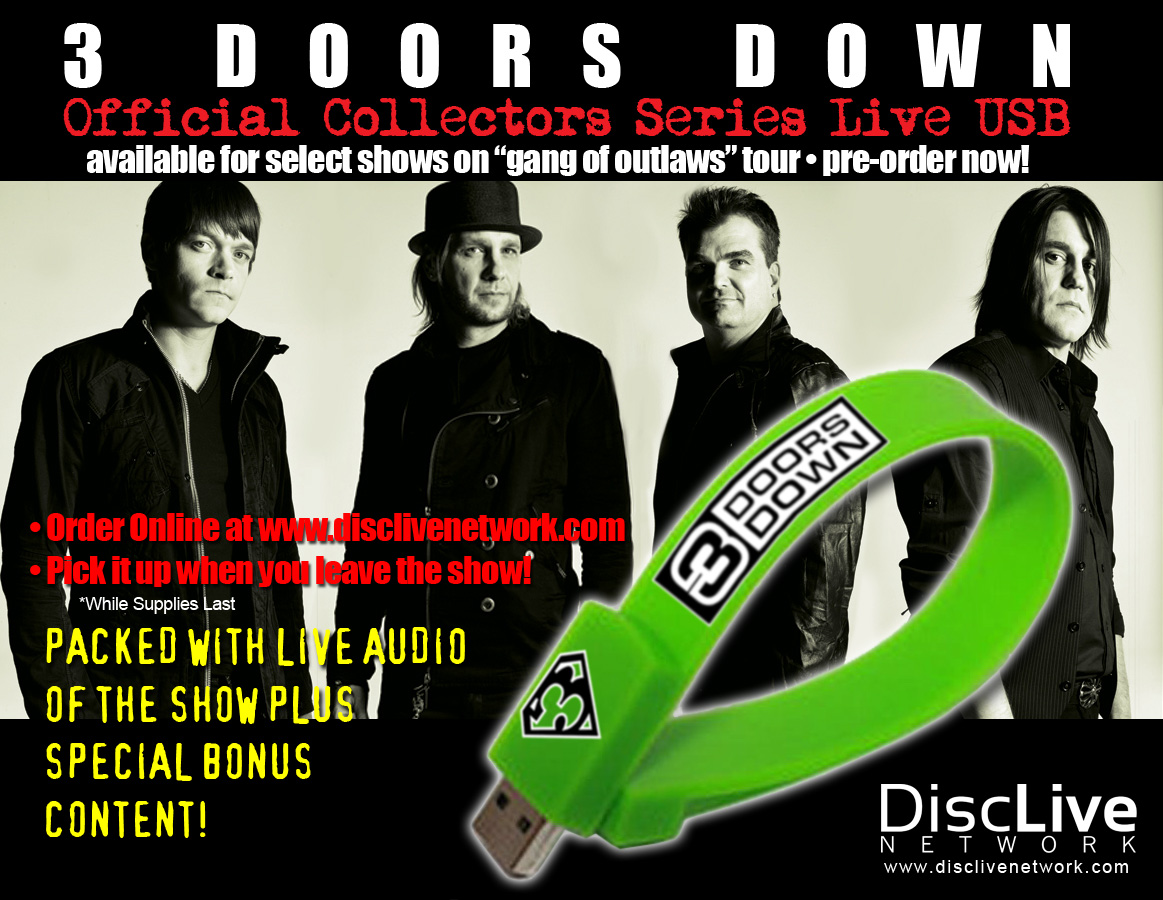 3 Doors down, the supercharged rock band from Escatawpa, Mississippi, was formed in 1998, and rose to international fame with their first single, "Kryptonite,". The band released their debut album "The Better Life" in 2000, on Universal Republic Records. More recently, in 2011, the band released "Time Of My Life" with such hits as "When You're Young" and "Every TIme You Go". DiscLive Network is super excited to be working with 3 Doors Down, recording select shows, and releasing limited edition LIVE USB Wristbands, featuring the live show + bonus content, and emblazoned with the 3 Doors Down "Kryptonite" logo. These are sure to sell out fast, so reserve your copy today by clicking the link below!
We are pleased to be offering limited edition recordings for the artist above. Not to be confused with a "sound board" recording, these recordings are fully mixed and mastered on the fly and are true collectors items. Only a few of each of these products will ever be made!
Product availability is subject to the date of the concert. Even if you cannot attend the show you can still order products and we will ship them to you! For shows that have not yet occurred, you can order "pick up" items (those items where you will be attending the show). In doing so, you are purchasing a printable voucher which may be redeemed at the concert you attend to pick up your product. IF YOU DO NOT SEE "PICK UP" ON THE SHOW YOU WANT TO PURCHASE, THIS MEANS THE ONLY OPTION AVAILABLE IS TO HAVE IT SHIPPED HOME TO YOU. HOWEVER, IF YOU ATTEND THE SHOW, YOU MAY STILL ORDER YOUR COPY AT THE SHOW AND TAKE IT HOME THAT NIGHT. For "ship home" items, we make every effort to send the master recordings to the fulfillment house within 3-7 business days of the specific show (this depends highly upon location of said show). Therefore you should allow up to 5 business days for processing, and additional delivery based upon your chosen method of shipment of up to 7 business days for domestic and two weeks for international in ADDITION to processing time. THIS IS ESPECIALLY TRUE FOR ACTIVE TOURS.
SELECT "PICK UP" ONLY IF YOU ARE ATTENDING THE SHOW AND WISH TO PICK UP THE ITEM RIGHT AFTER!