Dickey Betts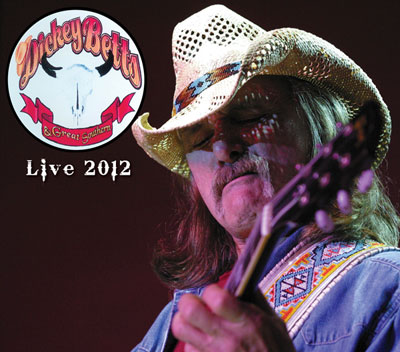 Dickey Betts was already a powerhouse player on the Deep South's music scene before he threw down with Duane Allman, but it is their union, and the formation of the Allman Brothers, that etched his place in rock history. Forming Dickey Betts & Great Southern in 1977 and touring consistently, the band has not released an "instant" concert CD since 2004, which sold out briskly.

We are extremely happy to have produced a small number of limited edition, collectible Double CD sets of Dickey Betts & Great Southern for the first time in almost 10 years - and they are fully mixed and mastered, not board recordings. These are sure to sell out quickly, so place your order today before they are all gone, and reserve your copy!
We are pleased to be offering limited edition recordings for the artist above. Not to be confused with a "sound board" recording, these recordings are fully mixed and mastered on the fly and are true collectors items. Only a few of each of these products will ever be made!
Product availability is subject to the date of the concert. Even if you cannot attend the show you can still order products and we will ship them to you! For shows that have not yet occurred, you can order "pick up" items (those items where you will be attending the show). In doing so, you are purchasing a printable voucher which may be redeemed at the concert you attend to pick up your product. IF YOU DO NOT SEE "PICK UP" ON THE SHOW YOU WANT TO PURCHASE, THIS MEANS THE ONLY OPTION AVAILABLE IS TO HAVE IT SHIPPED HOME TO YOU. HOWEVER, IF YOU ATTEND THE SHOW, YOU MAY STILL ORDER YOUR COPY AT THE SHOW AND TAKE IT HOME THAT NIGHT. For "ship home" items, we make every effort to send the master recordings to the fulfillment house within 3-7 business days of the specific show (this depends highly upon location of said show). Therefore you should allow up to 5 business days for processing, and additional delivery based upon your chosen method of shipment of up to 7 business days for domestic and two weeks for international in ADDITION to processing time. THIS IS ESPECIALLY TRUE FOR ACTIVE TOURS.
SELECT "PICK UP" ONLY IF YOU ARE ATTENDING THE SHOW AND WISH TO PICK UP THE ITEM RIGHT AFTER!